Meet the Crew
Meet the Crew!
If you take a trip with us at On Watch Sailing, chances are very good that you will meet one of the regulars.
Jump to:
Captain Green
Founder of On Watch Sailing and Lyra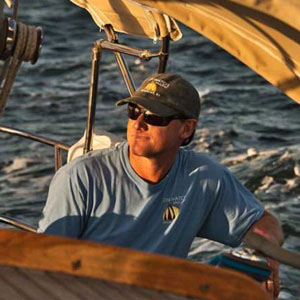 Discover Newport and the surrounding area with Captain Green. Whether in search of a lazy sail, historic tour information, stunning photography, or advanced sailing instruction, Green will make sure that you get the most out of your experience. With a perfect safety record and a lifetime of sailing experience, you and your party will be in safe hands. Green is also a writer for marine publications such as Cruising World magazine.
Captain Green has been sailing the waters in and around Newport, RI, since 2005. Since then, he has professionally sailed a variety of vessels, both for charter and private. He has sailed across the Atlantic ocean, between Newport and the Caribbean – and portions of the Pacific side of Central America.
Green grew up living aboard a 29-foot wooden boat with his parents and brother along the East Coast of the USA. He has a degree in business administration from the University of Central FL and was deep in the information systems world when he and his wife, Jen, decided to purchase an old 32-foot sailboat. After restoring Egret, they cruised the boat from Florida through the Bahamas, Turks and Caicos to the Dominican Republic. They had so much fun that they purchased Lyra in 2008 with the eventual goal of sharing their experiences with their family.
Indeed, leaving in the autumns of 2013 and 2016, Green, Jen and two daughters sailed south to do exactly that, eventually ending up in the Bahamas, returning to Newport for the summer sailing season.
Currently Communications Manager at Sailors for the Sea, Green's wife Jen was Senior Editor at Cruising World magazine for nearly 10 years, where Captain Green is a regular contributor. They have two children and lived aboard full time for nine and one-half years. You can read about their experiences and how-to articles at Cruising World's website by searching for Green Brett or Jen Brett.
Captain Sam
Owner and operator of Wren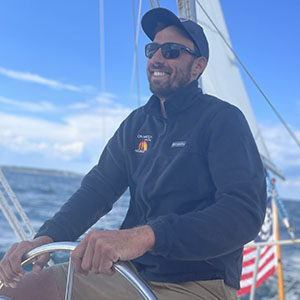 Sam has sailed in Newport in a professional capacity since 2017. He decided to move from captaining larger vessels to his own when he acquired Wren in February of 2021. Sam and Wren had a fantastic seasons in 2021 – 2022 and are back for more!
Sam loves dogs, cycling, sailing, and travel. He's an accomplished shipwright, IYRS graduate, and worked for a time on the massive Coronet project. He is recently engaged.
Captain Cat
Captain of Lyra
Cat has sailed extensively in the Pacific, the Caribbean and the East Coast of the US. She joined On Watch in 2021.
Cat loves to cook, is an artist and has midwestern charm in spades. Ask her about her travels in the south seas!